The Spratt Controlwing Flying Boat — plans and manual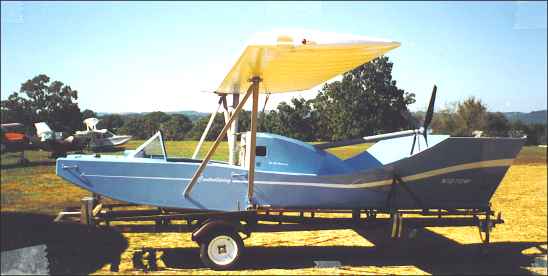 Controlwing flying boat – N107GW
George G. Spratt's Controlwing flying boat was developed from 1939, with plans drawn up in 1972–1973. Bill Wolfe used these drawings to build N107GW in the late 1990s. Sadly, he died in 2014.
Bill extensively annotated the plans and marked many personal changes to the original Spratt 1973 design, and kindly made them, and an 84 page construction and information manual with additional notes and drawings, available for non-commercial use.
See the web site www.georgespratt.org for videos of Spratt Controlwing flying boats, the Spratt and Controlwing History, the Spratt–Wright connection, plus other historic materials and general information.
The plans and manual are both in two parts, all Adobe PDF files:
The pages in the two parts of the plans are as follows:
Part 1

---

Part2

---

General view – inboard profile
Hull lines – side view
Hull lines – top view
Front, side, and top views
Wing assembly and control rod fitting detail
Hull sections
Wing and spar details
Wing ribs, etc.
Drive shaft pulley
Distributor modification (80HP Mercury)
Engine cradle, etc.

Mast assembly
Drive shaft, propeller stub, etc.
Wing struts (left side)
Mixer assembly
Collective pitch control and throttle
Ribs
Wooden prop ring
Wing fittings 1
Wing fittings 2
Foam hull construction

Propeller A-frame support
Wing fittings 3
Hull fittings for wing struts
Mast clamp and fittings
Hull fittings
Steering wheel assembly
Forward control pulleys
Radiator
Rear control pulleys
Engine, drive belt, etc.
See also:
Thanks, too, to A&B Reprographics, Inc., who digitized the plans and kindly provided them for this site.
---