---
I have been taking high-resolution panoramas for many years, and recently came across the AZ-GTi motorised mount which has been my default since mid-2022. This page provides some background, some information about the AZ-GTi, and a checklist for using it.
---
Why use a motorised tripod head?
A motorised pan-tilt tripod head sounds like an over-the-top accessory but it can be very cost-effective, because:
It allows a higher-resolution image to be created than the camera's sensor supports.
For a given lens, a motorised head lets you emulate a wider view lens than the lens in use, either for a panorama or a vertical image. A 50mm lens has a 38°×29° field of view, but with a motorised head that same lens can cover a full 360°×180°.
The final image is 'stitched' by combining multiple images. Typically a 30% overlap is used – so only the centre part of each image is used. This means that lenses that are bit 'soft' in the corners can be used for higher-resolution photographs because you can ensure that only their sharp centre area is used.
A motorised head lets you take multiple photographs of a scene (perhaps tens or even hundreds) while automatically changing the camera pan and tilt for each one. Since it takes time to move the camera between each image this technique is best for static subjects (landscapes, townscapes, architecture, etc.).
The resulting images are then stitched together by software to make a composite high-resolution image; I nowadays mostly use PTGui but there are several free alternatives.
The Sky-Watcher AZ-GTi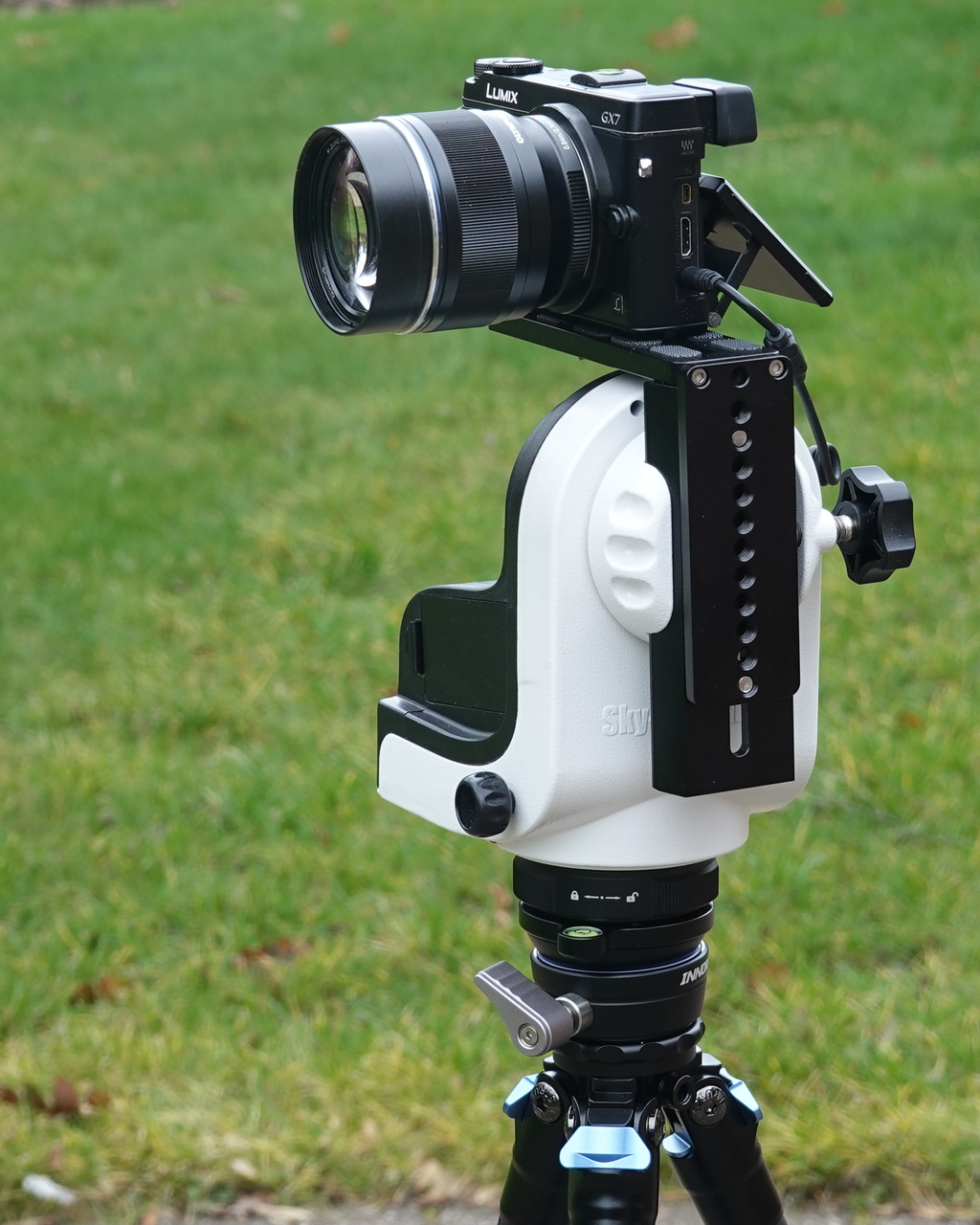 AZ-GTi with GX7 camera
In 2022 I discovered the Sky-Watcher AZ-GTi motorised head, which at around £250 is quite affordable – especially as it can save expenditure on lenses. As well as being more robust than earlier heads I've used (such as the GigaPan Epic 100) because its two axes of rotation are wholly contained within the device, I have found that support from the UK distributor (Optical Vision Ltd.) has been excellent.
The app used to control the head (SynScan Photo) has Remote control, Time lapse, Panorama, and other options, and its Panorama option has recently been updated to allow repeat panoramas and long exposures; both exceptionally useful.
The head is attached to a tripod; and the camera can then be attached to a 'Vixen style' dovetail plate (think beefed-up Arca-Swiss, designed for heavy telescopes, etc.). The camera can be attached to this directly, but this means the camera is in portrait mode (often inconvenient) and also could easily drop out of the clamp for an 'exciting' encounter with the ground.
Instead, I add an inexpensive (search for 'L-shaped') bracket as seen in the photograph; this places the camera above the vertical axis of rotation, keeps it in landscape orientation, and prevents it dropping out of the clamp. If the camera has a tilt screen and/or tilt viewfinder – the Panasonic GX7 shown has both – then the tripod can be used at lower height, for better stability.
Note that for reliable triggering of each image, a camera with a wired remote control socket is needed. Almost all 'high-end' cameras have this, but less-expensive cameras such as the Panasonic GX7 also have these.
Here's my Panorama AZ-GTi checklist which might prove a useful starting point for a new user.
---
In summary: with a decent tripod, an inexpensive camera and lens, and a motorised head like the one described, you can create better-quality and/or higher-resolution images of static subjects than the camera and lens are capable of on their own.
---
The pages and data here are for non-commercial use only. All content © Mike Cowlishaw, 1963, 2023. All rights reserved. Please see
http://speleotrove.com/mfc/

»
for contact details.
Privacy policy: the
Speleotrove

»
website records no personal information and sets no 'cookies'. However, statistics,
etc.
might be recorded by the web hosting service.
This page was last edited on 2023-06-22 by mfc.